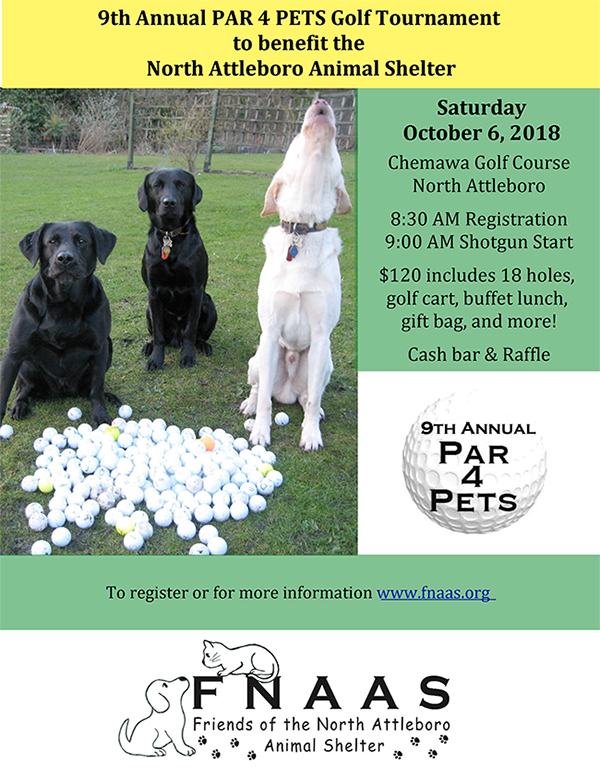 On Saturday, October 6, 2018, at Chemawa Golf Course in North Attleboro, we will host the 9th annual PAR 4 PETS Golf Tournament.  All funds raised at this event will go directly to the North Attleboro Animal Shelter to help provide for the well-being of our homeless pet population.
Unfortunately, the number of homeless animals that need help seems to be endless.  Also, the number of owned animals that need help has increased drastically.  In November 2014, the North Attleboro Animal Shelter launched a low cost spay and neuter program through the Animal Rescue League of Boston's mobile Spay Waggin' to help reduce the number of animals that end up in our shelter and other local shelters.  The Shelter's spay and neuter program also includes vaccinations, flea/worm treatment and microchipping which are all vital for the health and well-being of the animals.  This program is proving to be a great success!  As of May 2018, over six hundred cats and dogs have been spayed and neutered at the Shelter's Get Your Fix clinics.  This year our objective is to raise funds so the Shelter can continue to provide this essential and effective service.  Your participation in this golf tournament will help us accomplish this goal!
You can download and print the PAR 4 PETS Registration Form and send it, along with your check payable to FNAAS, to the following address:
Friends of the North Attleboro Animal Shelter
29 Poppasquash Road
North Attleboro, MA 02760
OR email the PAR 4 PETS Registration Form to info@fnaas.org and pay below using our secure PayPal link.